'Seeker' system unveiled enabling Mars rover to move 'unaided'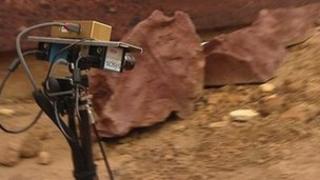 A space project enabling vehicles to roam Mars unaided for the first time has been unveiled in Oxfordshire.
It was designed by engineers at the Rutherford Appleton Laboratory in Didcot as part of the European Space Agency's StarTiger initiative.
Kim Ward, head of space engineering, said it would allow a vehicle "to travel under its own steam with its own intelligence around a 6km route".
The details were unveiled at the 7th Appleton Space conference on Thursday.
'Novel project'
Conventional rovers are remotely operated by mission control on Earth but radio signals can take 30 minutes to travel between the two planets.
Instead Seeker will work autonomously over the Red Planet's hostile terrain to gather data.
Aron Kisbi, 24, a systems engineer at the laboratory, said the technology was a great leap forward.
"We put the robot in the target area, leave it out there and it does the whole journey by itself, and that is what is really novel about the project," he said.