Mouth artist Keith Jansz to carry Olympic relay torch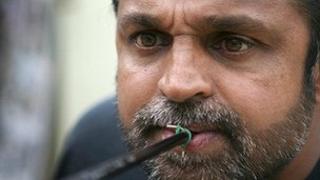 A mouth artist who is paralysed from the chest down will be a torch bearer when the Olympic relay passes through Oxfordshire.
Keith Jansz, from Finmere near Banbury, received an email from the 2012 games organisers on Thursday confirming he had been selected.
He said: "I couldn't believe my eyes as I was reading it... I feel like a five-year-old on Christmas Day."
He is expected to carry the torch via a special attachment to his wheelchair.
'Unique experience'
He said: "It's a true honour to be chosen to carry the torch.
"It's going to be great for Oxfordshire, Finmere and Buckingham, and for all the people who have supported and nominated me.
"I'm proud and immensely humbled to be chosen for such a unique experience in our lifetimes."
Mr Jansz was paralysed in a car crash in 1995.
As a member of the Mouth and Foot Painting Artists, he paints by placing a rugby gum shield on the bottom of his teeth and using a long bent arrowhead shaft as a brush.
"I'm very much involved in painting and getting my inspiration and buzz for being alive from that," he said.