Abingdon's Abbey Shopping Centre plans approved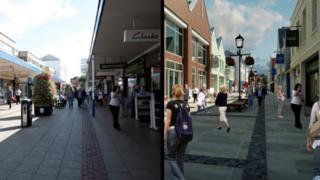 Plans for a £4m refurbishment to an Oxfordshire shopping centre have been given the go ahead.
Improvements to the Abbey Shopping Centre in Bury Street, Abingdon, were approved by the Vale of White Horse District Council.
Elaine Ware, cabinet member for economic development, said the new area would be "worthy of being named after the historic Abbey".
Work is due to begin in February and be completed by autumn 2012.
Plans include new buildings of 4,800 sq ft (1,463sq m) and 2,400 sq ft (732 sq m).
Paul Townsend, of the Abingdon chambers of commerce, said: "It's absolutely fantastic news for the town. It's been a long time getting there.
"The main shopping centre was built back in the 1960s, and although it did win a design award, obviously times have moved on and the centre of Abingdon has stayed pretty much the same.
"It will really bring us up to the level of everywhere else in the area."