John Radcliffe Hospital in toy drive for sick children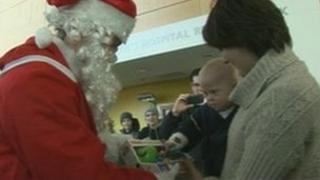 Fifty cars have taken part in the annual toy drive in Oxfordshire for the children's ward at the John Radcliffe Hospital.
Organised by car enthusiast Iain Phillips, the drive began in 2009 and sees hundreds of young patients receive toys for the festive period.
It started with only a handful of cars taking part and last year it grew to 17.
This year the convoy involved more than 100 people, travelling 134 miles.
The convoy, which started in London and was made up of members of motor club Fueltopia, reached the hospital in Oxford by about 11:30 GMT.
Three thousand pounds worth of presents, mainly donated by Re-Creation based in Finchampstead near Wokingham in Berkshire, were delivered.
Mr Phillips said it was a "great chance to put a smile on some very ill children's faces".