Royal Marines complete military repatriation route run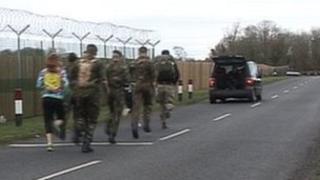 A group of Royal Marines has completed a 22-mile run in Oxfordshire, following the route along which the bodies of UK military personnel are repatriated.
Crowds turned out in support as the marines ran from RAF Brize Norton to Oxford's John Radcliffe Hospital to raise money for a memorial bell.
The bodies of service personnel are flown into the base before being taken via a memorial garden to the hospital.
The run aims to raise money for the £18,000 bell, to hang in the garden.
The idea for the bell was proposed by Lee Mackie, the mother of Jason Mackie, a Royal Marine killed in Afghanistan in 2009.
Mrs Mackie started the march, organised by the Royal British Legion, and walked the first mile through the RAF base.
The bell will be made by the Whitechapel Bell Foundry, founded in 1405 and the makers of Big Ben and the Liberty Bell.
The bodies of killed service personnel began to be repatriated into RAF Brize Norton in September.
Repatriations previously went through RAF Lyneham in Wiltshire, which is due to close.