Volunteers to keep Oxfordshire libraries open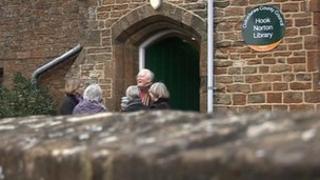 Oxfordshire's 43 public libraries could remain open after a council rethink.
Oxfordshire County Council's revised plans are for 22 to be fully staffed, with 16 half-staffed by volunteers and five staffed by one-third volunteers.
Keith Mitchell, leader of the the Conservative-run council, said: "We have recognised the strength of feeling and have come up with a compromise."
But Conservative councillor Ian Hudspeth said he would fight for a fully funded library in Woodstock.
Mr Hudspeth, an Oxfordshire county councillor for Woodstock and a West Oxfordshire district councillor for the Bladon and Woodstock, said his words at the meetings "fell on deaf ears".
He added: "I think that it is vital to try and find solutions that solve the problem whilst trying to avoid finding money from another part of the county's budget."
'Tough decisions'
Mr Mitchell said: "We have made a judgement in a very challenging economic environment that would, with the help of the local community in some locations, see all 43 libraries in Oxfordshire remain open.
"All local authorities have had to take many tough decisions on matters to do with almost all of the services that they provide because of the very difficult financial situation that this country is in.
"There are already hundreds of people in Oxfordshire who give up some time to assist with how public services are delivered and I am looking forward to the council establishing close links with communities to help staff some of our libraries."
But Judith Wardle, chair of Save Oxfordshire Libraries, said: "They haven't really addressed the fact that so many groups around the county said they could not find the volunteers that would be needed.
"We are concerned they weren't willing to put into place some kind of contingency plan."
Under initial plans the libraries in Summertown, Headington, Littlemore, Blackbird Leys, Neithrop, Berinsfield and Botley were threatened with closure.
But now Abingdon, Banbury, Berinsfield, Bicester, Blackbird Leys, Botley, Carterton, Chipping Norton, Cowley, Didcot, Eynsham, Headington, Henley, Kidlington, Littlemore, Neithrop, Oxford Central, Summertown, Thame, Wallingford, Wantage and Witney will remain open and fully staffed.
Woodstock, Chinnor, Faringdon, Grove and Wheatley are set to rely on one-third of volunteers.
And Adderbury, Bampton, Benson, Burford, Charlbury, Deddington, Goring, Hook Norton, Kennington, North Leigh, Old Marston, Sonning Common, Stonesfield, Watlington, Woodcote and Wychwood will consist of half.