Pete Oxley makes musical bows from rubbish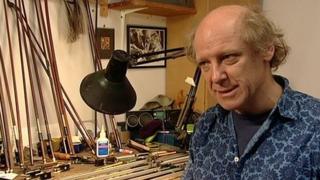 After more than 30 years making violin bows, a master craftsman from Oxford is embarking on a project to fashion them from rubbish.
Pete Oxley was trained how to achieve the correct shape, weight and balance of a bow using wood and horsehair.
But when he was asked to take part in a programme called Scrapheap Orchestra on BBC Four he had to dispense with the traditional techniques and start again from scratch.
The mission given to him and 10 other instrument makers was to equip the BBC Concert Orchestra to stage a flawless performance of Tchaikovsky's 1812 Overture at the 2011 Proms.
The catch was everything had to be made from scrap.
Mr Oxley said: "It's completely different in every way to the traditional way of bow making."
The biggest obstacle he had to overcome was the various weights needed for different bows.
A violin bow is about 60g (2.1oz) and a cello about 80g (2.8oz). Virtuoso performers are very sensitive to these specific characteristics.
"At first it was a great mental challenge," said Mr Oxley.
He started work on the cello bow first, constructing it out of discarded bicycle spokes.
He persevered and on the fifth attempt achieved a bow that weighed 81g (2.9oz) with the balance point in the right place.
'Surprised and shocked'
The violin bow proved to be more of a challenge because the metal spokes were too heavy.
Three weeks before the concert at the Royal Albert Hall he had not made any violin bows and then he stumbled on the idea of using damaged arrows.
After ringing around various archery clubs in London, and together with broken tent poles and the rim of a bicycle wheel, he was able to construct what was needed.
"The reaction to these bows has been overwhelmingly good," he said. "I'm surprised and shocked and of course delighted that it has been such."
Mr Oxley has already received orders for his "scrapheap bows" and is determined to take the design further.
"I fully intend to develop a brand new version of the bow," he said.