Light snow in Oxfordshire prompts travel warning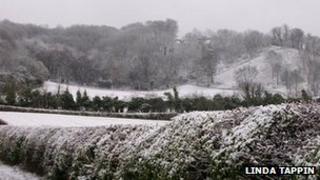 Snow and sleet have made driving conditions difficult across Oxfordshire.
There was no major snow fall overnight, but areas including Kennington, Wantage and Abingdon had a dusting. Snow later turned to sleet.
Motorists are being advised to allow extra time for their journeys, slow down and be aware of standing water.
Councillor Lorraine Lindsay-Gale, from Oxfordshire County Council, said: "We will react as the weather changes."
The enhanced content on this page requires Javascript and Flash Player 9
Map Key
Land
Cloud
Lakes, Rivers & Sea
Fog
Light
Heavy
Frost
Light
Heavy
Pressure Fronts
Cold
Warm
Occluded
Rain
Light
Heavy
Extreme
Snow
Light
Heavy
Temperature tab only
Temperature (°C)
More details from BBC Weather