Horley cat recovers from airgun wounds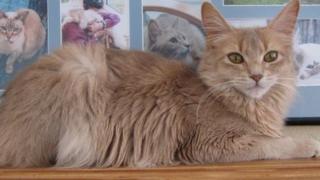 A cat who was shot with an airgun in Oxfordshire has survived after a pellet was removed from her stomach.
The cat, called Kitty, has been shot twice this year and its owner has appealed for help catching those responsible.
Gillian O'Connor, 70, from Horley, said she was extremely worried when she found her cat howling in pain.
"I simply wouldn't expect this to happen. She is using up her lives a bit too fast for my liking," she said.
Passed through leg
The animal was taken to the vets after being shot in the morning of 10 December but the severity of her injury was not spotted and she was released.
After her condition worsened, Ms O'Connor took her back and an X-ray revealed the airgun pellet had passed through her leg and punctured her stomach.
Kitty is expected to make a full recovery but Ms O'Connor said she had not let any of her three cats out since the incident happened.
Thames Valley Police has appealed for anyone with information to contact them.