Helen & Douglas House sells vintage Cartier bag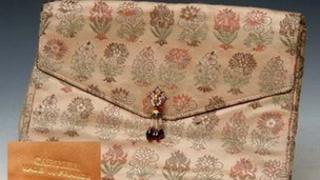 A vintage Cartier clutch bag has been sold at auction on behalf of an Oxfordshire children's hospice.
The French handbag made £2,600 for the charity Helen & Douglas House.
The bag was recognised as "something different" when it was anonymously donated at its shop in Stow-on-the-Wold in Gloucestershire.
But it far exceeded the £300 to £500 guide price when two telephone bidders competed and pushed the price up.
Sarah Offill, from the charity, attended the auction in Oxford on 14 December.
She said: "I could hardly believe it, the tension and excitement was unbelievable and I am so happy that it raised this amount.
"It is enough to pay for one of our nurses to provide one to one care for almost a month."
The silk Cartier bag had a gold, enamel and garnet clasp and the interior was stamped: "Cartier, Made in France".