Mum survives rare tumour operation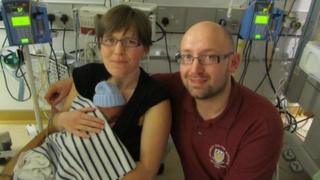 A woman who gave birth while suffering from an "extremely rare" heart tumour has thanked the doctors who joined forces to save her.
Susannah McKenzie, 32, gave birth to son Felix prematurely on 2 November, at the John Radcliffe Hospital in Oxford. He was due on Christmas Day.
About 25 experts were present for the life-saving Caesarian section.
She said: "I'm a very lucky girl". Her cardiologist said it was thought to be the first case of its kind in England.
Mrs McKenzie, from Fairford, Gloucestershire, was treated at the Great Western Hospital in Swindon before being referred to cardiologist Dr Oliver Ormerod in Oxford.
'Very humbled'
He said: "Myxomas are rare at the best of times, but we think this is the first one that has been discovered during pregnancy in England ever, and there are about four or five cases in world literature.
"There was a huge team present for the delivery. It needs about 10 disciplines.
"There was obstetrics, obstetrics anaesthesia, cardiac anaesthesia, cardiac surgery and then there was the neonatologist to look after Felix when he was out."
Mrs McKenzie, who was awake for the surgery, added: "It was done in the Oxford Heart Centre with a variety of people, some to look after Felix, some to look after my heart.
"I felt very humbled, them all being there for me.
"I could see everyone bustling around. None of it was scary because I had people holding both hands. I just had to lie really still.
'Deeply honoured'
"For the birth [husband] Andy came in, so Daddy was able to see the birth and meet Felix with me."
A heart operation followed just five days later. Prof Steve Westaby, who removed the tumour, said he was "delighted with the outcome".
"It is exceptionally rare and you have two people who might die.
"Instead we had two people who lived and will be living an awful lot longer."
The day before the heart surgery Mrs McKenzie named her child Felix Oliver, after her cardiologist.
Dr Ormerod said: "I was deeply honoured by that decision.
"I can't imagine a more powerful vote of confidence in me and my team."