Bodleian Libraries completes Swindon move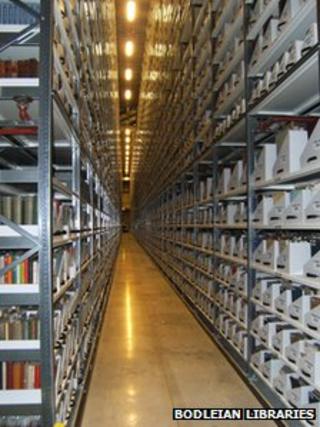 A vast store for Oxford University's renowned Bodleian Libraries has taken delivery of its seven millionth book.
The £26m warehouse in Swindon, which covers 13 acres and has 153 miles of shelving, is now home to many of the libraries' lesser-used editions.
Library bosses decided to build the store after describing the lack of space as "desperate".
The project to relocate the books is now complete and has been hailed as "an extraordinary success".
Librarian Sarah Thomas said: "This has been an important year in the history of the Bodleian.
"We have tagged and moved all our books, relocated our staff, prepared the New Bodleian building for its redevelopment, opened new facilities for readers in the heart of Oxford and refreshed and developed our IT capabilities.
"Any one of these tasks would be a major undertaking for most libraries, but, thanks to a superb team of dedicated staff, we have accomplished them all simultaneously without any major interruption to our day-to-day services.
"With our new storage facility at Swindon and renewed spaces for study in place or under development in the heart of Oxford, our readers can look forward to significant enhancements to our services in 2012 and beyond.'
Popular items
The Bodleian Libraries are 40 libraries serving Oxford University, including the Bodleian Library founded in 1602.
They are entitled to a copy of every book published in the UK and have been running out of space to store works for decades.
It will be predominantly low-usage books and maps which will be stored at the site, 28 miles from Oxford.
More popular items and special collections - including four original manuscripts of the 13th Century Magna Carta - will remain in Oxford.
Students have been told that if they order a book from the new unit by 10am, it should be delivered to the Oxford reading room of their choice by 3pm.