Wantage science teachers quit to become magicians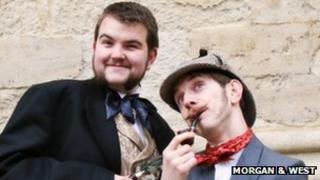 Two science teachers from Oxfordshire have given up their jobs to become full-time performing magicians.
Before the Christmas holidays, Rhys Jones and Rob Hemmens taught physics at King Alfred's Academy, Wantage.
Now they are preparing to fly to Australia in February to perform in the Adelaide Fringe Festival as Victorian magic duo Morgan and West.
When they return they will continue to tour the UK, taking part in Fringe festivals around the country.
The pair began performing magic while studying together at Oxford University and were able to continue their hobby after they both landed a job at the same school.
Their increasingly busy schedule now means they can no longer sustain both careers.
The pair will spend six weeks in Australia performing their Time Travelling Magicians show 30 times.
When asked what his pupils thought of the new venture, Mr Hemmens, 25, said: "They were very excited by the whole thing. It's quite a cool thing to leave teaching for."