Terrapins dumped in Oxford field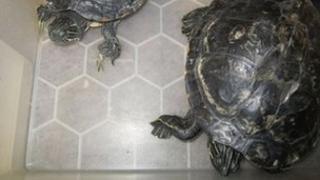 Two terrapins have been found dumped in a field in Oxford, prompting the RSPCA to warn people against buying exotic pets on impulse.
Dennis Lovell of the organisation said people buy the animals when they are the size of a 50p piece, and then they grow to the size of a dinner plate.
Sharon Bailey discovered the terrapins while walking her dog in Headington on 29 December.
She said: "It seems heartless to have left them in this way."
She added: "I was concerned about them surviving out there so took them home and put them in the bath to warm up."
Ms Bailey called the RSPCA who identified the animals as yellow-bellied sliders.
Ninja film fear
They have been taken into private boarding while a new home is found for them.
The animal charity believes films like the Teenage Mutant Ninja Turtles encourage people to buy terrapins.
It is concerned that a new version of the film coming out this year may result terrapins being brought on a whim.
Mr Lovell said: "Sadly, it is not that unusual for terrapins to get dumped like this.
"Many people bought them on a whim after the ninja turtle films a while back and did not realise how big they can grow, how difficult they can be to care for properly and how expensive they can end up being."
The RSPCA would like to hear from anyone with any information about the dumped terrapins.