Oxford rope dancer Nomi Mcleod gets space to perform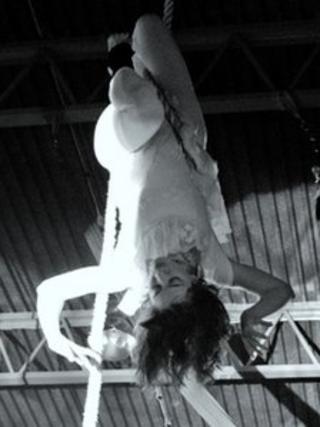 A rope dancer who had to commute hundreds of miles to learn her craft has been given the use of a small theatre space in Oxford so she can perfect her performances.
Nomi McLeod is now developing her aerial routines at the Pegasus Theatre for a special performance at this year's Dancin' Oxford festival.
The performer, who took up the art form two-and-a-half years ago, said: "There is nobody teaching here and no training centres."
Previously, Ms McLeod was only able to progress by travelling to centres in Bristol or London.
The Oxford-based artist said she was now able to train at least once a week and there may be scope for more time at the venue.
It is vital that she gets regular practice to stay fit enough to perform her routines.
She said: "The Pegasus has been wonderful to let me put my rope up there."
"A lot of routines you can do on your own.
"The major thing when I first started was trying to get my body to do pull-ups.
"I had absolutely zero upper body strength but now I can stay in the air for about seven minutes before I need to rest."
The event she is performing at, Dancin' Oxford 2012, will be the sixth annual event and takes place between 18 February and 28 March.
The festival is funded by Arts Council England and features a variety of different dance performances across the city.
'Never in danger'
Ms McLeod will be performing a specially-developed piece with a musician who will play live as she dances overhead.
She said: "There is an element of risk and that's appealing to watch as an audience member.
"It's not only very beautiful but it is exhilarating to watch somebody do something that could result in them falling.
"When you're actually doing it you never feel in danger. It's very safely taught and you only perform at the level you're capable of."
One of the festival highlights will be a free event on the walls of Oxford Castle.
The French aerial company Retouramont are returning after their 2011 show with a new work called Danse des Cariatides, which translates as Dance of the Caryatid, a type of Greek sculpture.
Choreographer Fabrice Guillot said: "All the walls can be transformed into a stage.
"Town is a really saturated space and it's really strange to imagine that actually most of the city is completely free and open.
"Our ropes and harnesses give us the ability to use the vertical spaces and go everywhere."
Ms McLeod said she hoped the festival would give inspiration to new performers hoping to take up her style of dance.
She said: "If anyone has even the slightest inclination to try it I'd say definitely go for it because it's fantastic.
"It's really changed my life."