Oxfordshire couple celebrate 70th wedding anniversary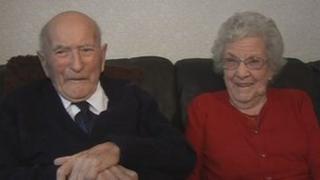 An Oxfordshire couple both aged 91 have celebrated their 70th wedding anniversary.
Muriel and Alec Cantwell, from Standlake, were married in Ardley, aged 21, on 10 January 1942.
The pair, who have two children, four grandchildren and seven great grandchildren, received a card from the Queen to mark their platinum milestone.
Mrs Cantwell described the day as "very special" and said the secret to a happy marriage was "give and take".
'Alcohol rations'
"It snowed the day we got married," Mrs Cantwell said.
"We had two bridesmaids and a reception at the Fox and Hounds [in Ardley] - a pub and smallholding run by my father and brother."
Mr Cantwell was home on leave from wartime service for his wedding day.
"The war was on and all alcohol was rationed, so they saved up all the rations several weeks before, so we could have it all to celebrate our marriage," he said.
Mr Cantwell has lived in Standlake all of his life. Mrs Cantwell moved there with her family, from Ardley when she was 16 and the couple became neighbours.
"It was love at first sight when I met him," Mrs Cantwell said.
Mr Cantwell, who worked as a local builder, said he would remarry his wife "10 times over" if he could.
The pair still live in the same house Mr Cantwell built for them in the early 1950s.