Government backs Oxford Unesco World Book Capital bid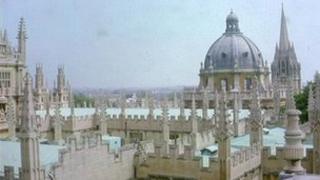 Oxford has received government support for its bid to become Unesco World Book Capital in 2014.
Culture minister Ed Vaizey MP has confirmed the government's backing to the bid for a year-long programme to promote books and encourage reading.
In a letter to the bid committee, he said the title would recognise Oxford's "contribution to world and especially English speaking culture".
If successful, Oxford would host literary events from April 2014.
Mr Vaizey said: "It is entirely appropriate that a city with such long-standing connections with books, literacy and learning should already be viewed as a world benchmark through institutions such as its premiere university and the Oxford English Dictionary."
The Unesco application process opened at the start of January with bids having to be submitted by the end of April 2012.
Oxford's bid includes the redesign and opening of the Bodleian Weston Library, as well as the completion of the Story Museum of children's literature and storytelling.
The winning town or city will be announced during the summer.