Signed Conan Doyle book donated to Thame Oxfam shop is sold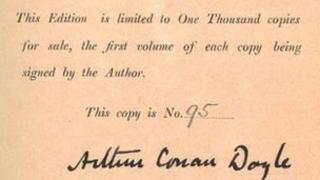 A limited edition novel by Sir Arthur Conan Doyle and signed by the author has been sold at an Oxfordshire charity shop.
The 109-year-old edition of White Company was among a pile of books donated to the Oxfam bookshop in Thame.
A further eight volumes from a set of 13 by the Sherlock Holmes author were also sold.
The shop raised £1,000 from the sales. One customer said he was buying the books as a birthday present.
Manager Dick Jennens, who has run the bookshop since it opened nearly 11 years ago, said he was "really excited" about the find.
"We had a lot of donations just before Christmas but these were particularly noticeable because the volumes we received were bound in a red cloth with gilt lettering so they stood out," he said.
Mr Jennens handed the books to one of the shop's volunteer experts, who found the books were part of a 13 volume limited edition of 1,000 copies published in 1903.
It is not the first time an unusual or valuable book has been brought to the store.
'Full of gems'
"The most unusual was a book of autographs from the mid 19th Century that had autographs from the president of the USA at the time as well as Charles Darwin and Charles Dickens," Mr Jennens said.
"The person who donated it was going to throw it in the skip. That raised £11,000 and we came to an agreement with the donor about that one."
Other donations have included a first edition of George Orwell's Animal Farm and a Bible and prayer book from 1657 that were sold to Oxford's Bodleian Library.
The shop stocks more than 9,000 titles and stores a further 2,000 which are for sale online.
Mr Jennens said: "It's fantastic - Thame is a small market town but we have got a wonderful little shop full of gems."