Theft leaves homes in Middle Barton and Tackley without phones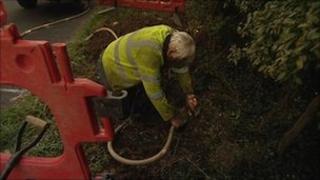 Residents in Oxfordshire have been left without phone and internet access for a fourth day after copper cabling was stolen by thieves.
About 300 homes in Middle Barton and Tackley have been without services since Friday.
Three sections of cable, each 350m (1,150ft) long, were taken from BT's Steeple Aston exchange.
BT said engineers would be on site to carry out "painstaking work" to reconnect each line manually on Monday.
The incident is the third in the county in a month. Thieves also stole cables linked to BT's Adderbury exchange on 9 and 11 January.
A BT spokeswoman said engineers had assessed the damage and started work on fixing the problem but would have to connect every line manually.
She added: "This is painstaking work but they will be cracking on with it as quickly as possible."
She urged people to call their service provider to help with "practical measures such as putting line diverts in place while the permanent repairs are carried out".