Job to restore phones in Middle Barton and Tackley 'extensive'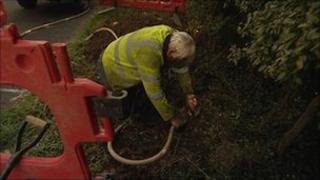 A BT spokesman has said it may take several days to restore phone and internet access after the theft of copper cabling in Oxfordshire.
About 300 homes in Middle Barton and Tackley have been without services since sections of cable were taken from BT's Steeple Aston exchange on Friday.
Work started on Monday to fix the problem but engineers now have to connect every line manually.
The company spokesman said the work was "quite extensive".