Empty homes in South Oxfordshire 'should be reclaimed'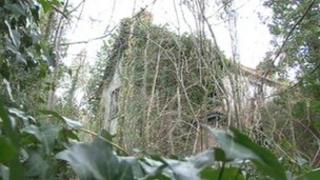 People who leave their homes to fall into a derelict state should have them seized, according to a parish councillor in South Oxfordshire.
Chrissie Phillips-Tilbury, from Sonning Common Parish Council, said: "Empty properties shouldn't be allowed to just moulder away and fall down."
The district council said it was aware of more than 400 properties that had been empty for more than six months.
But it says it would not be a proper use of public funds to take them over.
On its website it says: "Legislation provides some powers to bring empty homes back into use, e.g. Empty Dwelling Management Orders (EDMOs), however, the council does not have sufficient resource and cannot justify the financial cost of trying to enact EDMOs."
'Legal costs'
In 2007 South Oxfordshire District Council was the first local authority to use an EDMO when it took over an empty property in Berinsfield which had been vacant for 10 years.
But it now says: "From our experience an EDMO can take up to two years to put in place even with the co-operation of the legal owner and with legal costs in excess of £10,000 (for a single property), even before any remedial works have been undertaken, the council does not believe this would be a proper use of public funds."
The charity Empty Homes campaigns for houses to be brought back into use.
It says in 2011 there were 279,000 homes in England that were left empty for more than six months.
But nationally they believe there have only been about 70 EDMOs ever used.
Mrs Phillips-Tilbury said the two homes in Sonning Common that had fallen into a state of disrepair should be brought back into use for the benefit of young people.
"We've got so many people who can't find anywhere to live. We should do something about the houses," she added.