West Oxfordshire thermal imaging cameras to cut fuel bills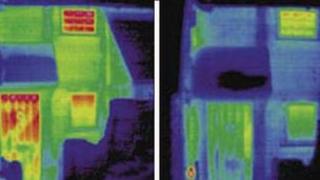 Volunteers in West Oxfordshire are being trained to use thermal imaging cameras to help reduce energy bills.
They can be pointed at homes to identify the spots where most heat is escaping.
A report is then drawn up advising householders where to improve insulation.
West Oxfordshire Councillor David Harvey said: "It's a great opportunity for residents to check their properties for hot spots where heat is escaping."
Seven volunteer groups are carrying out surveys across the district.
The Eynsham-based group Green TEA (Transition Eynsham Area) has been running since 2009 with the aim of helping the community to reduce the impact of climate change.
So far they have surveyed about 300 homes.
Angie Titchen, from the group, said: "This thermal imaging project seems to be really capturing people's imagination."