Oxfordshire church roof treated with theft detection liquid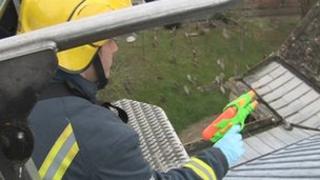 An Oxfordshire church which had lead stolen from its roof has been treated with a theft detection liquid.
Firefighters used ladders and a hydraulic platform to spray Wantage Parish Church's roof with the liquid which can be easily detected.
It also enables police to trace it back to an individual building.
Ch Insp Ian Money, of Thames Valley Police, said: "It isn't fair that congregations' money and effort is used to repair the damage cause by thieves."
The liquid contains a unique code which can be read under ultraviolet light.
It was sprayed on the Wantage church roof as part of a new crime prevention initiative by the police, working with the fire service, after it was targeted in 2011.
Thefts of lead and copper have increased in recent years as the international commodity price has risen.