Bicester town centre £70m regeneration work starts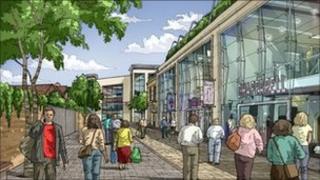 Work has begun on a £70m regeneration of a town centre in Oxfordshire which it is hoped will create 600 jobs.
Plans to transform Bicester have been in the pipeline for seven years and had to survive local objections and a public inquiry.
The scheme which includes a new supermarket, cinema, shops and a car park should be finished by summer 2013.
Demolition and ground works will prepare the site ahead of building work due to start in the spring.
It comes after the government authorised a compulsory purchase order to clear land for the development last year.
'Some disruption'
Cherwell councillor Norman Bolster, lead member for estates at the Conservative-led Cherwell District Council, admitted it had been a "frustrating" wait for the "extremely complicated" project.
He added: "There are some big changes on the way for Bicester town centre and it's very exciting that we are poised to make a start on them.
"It is the next challenge to make sure we can let all these premises out."
The redevelopment of the area to the rear of Sheep St and east of Manorsfield Road was initially granted planning permission in 2009.
Revised plans were then approved the following year.
Much of the site is currently a car park but eventually there will be a large Sainsbury's, a seven-screen cinema, further shops and restaurants, a multi-storey car park with 560 spaces and replacement bus stops.
Paul Tyler, Sainsbury's project manager, said: "Whilst there will obviously be some disruption during construction, we will be doing everything possible to minimise this.
"The redevelopment is a fantastic opportunity for Bicester and will in the long-term encourage more people to use the town centre."
At a later phase, the council is planning to build a new civic building at the northern end of the site to include a public library.