Shooting of US Air Force colonel's son: Police probe ends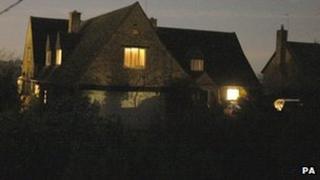 The death of a US Air Force colonel's 13-year-old son who suffered gunshot wounds to his head is no longer being investigated by police.
The shooting occurred at a house in Souldern, near Bicester, Oxfordshire, on Sunday morning, police said.
The injured boy was taken to the John Radcliffe Hospital in Oxford where he died on Monday with family by his side.
The Oxfordshire coroner will also not carry out an inquest because of the terms of the Visiting Forces Act.
The act allows incidents involving naval, military and air force personnel from certain listed countries to be investigated by their own authorities and courts rather than those in the United Kingdom.
The 13-year-old boy was the son of an active duty US Air Force lieutenant colonel assigned to an academic exchange programme at Oxford University.
Police previously said they were not treating his death as suspicious, and the US Air Force has described the incident as "a tragic accident".