Van bonanza for Oxford kebab fans?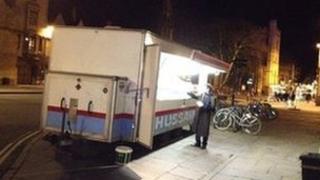 The author Bill Bryson wrote approvingly of Oxford's "mysteriously popular kebab vans" as having a "kind of seductive Hopperish glow about them".
They are found throughout the city, close to university colleges and at historical sites such as Broad Street and the Ashmolean Museum.
A magnet for students in the early hours, some colleges have "adopted" their own kebab vans and kebab van owners have even become members of college junior common rooms.
Mohammed Ayub of Kebab Kid in Gloucester Green said: "We get many students in. It's because our kebabs are very tasty."
Now changes in regulations in Oxford could mean an even greater proliferation of the kebab vans.
'Mess and litter'
"Prohibited streets" which were previously off limits to street traders will become open to licensed vendors.
Christ Church, Pembroke College, St Aldate's Church and Commonwealth House all opposed the move by Oxford City Council.
But Councillor Colin Cook said the changes would allow the council to better regulate the town.
"It will mean that some roads that were prohibited will be able to put on the very occasional street party, or take part in city centre events such as the Christmas Light Night.
"We don't think it will change where kebab shops have their pitches, and it will do away with unregulated businesses such as people selling hot dogs or setting up second-hand car sales in east Oxford and using up all the parking."
Paul Tong, the owner of Pizza Artisan, a wood oven pizza food van based outside Christ Church said: "I'm concerned Oxford City Council are just out to have as many vans as they can out there to collect their £7,000 a year.
Kebab smell row
"Oxford's food vans are only there because students aren't allowed to cook food in their own kitchens, because they don't want any fires.
"The students are only here for half the year, and the vans disappear for half the year.
"The vans in St Aldate's and the one in Queens Street are the only ones which are there all year round. It's really there for the students and not for the local people."
In 2009 a row blew up between Christ Church and Saeid Keshmiri, who ran Sid's Kitchen kebab van, as dons believed the kebab smell was distracting students from their studies.
Oxford City Council refused to take away Mr Keshmiri's licence and, as a compromise, the kebab seller moved from the doorway of Christ Church, where he had been based for 15 years, 200m down the street.
He has since moved to Queen Street and his pitch has been taken by Mr Tong's silver camper van, selling pizza.
Peter Thompson, chairman of Oxford Civic Society, recognises there are two sides to the kebab van story.
"The main problem with kebab vans is the mess and litter," he said.
"There aren't many anti-social issues, it's mainly people chattering in the early hours.
"But it's not nice for people living in the immediate vicinity."
But he added: "It's a good way for people to set up their own small business, and that brings vibrancy to the area.
"I live in Summertown and there's a kebab van on the way when I'm walking home.
"It's like a welcoming beacon."