Porter at Oxford's Dragon School claims 'racial abuse'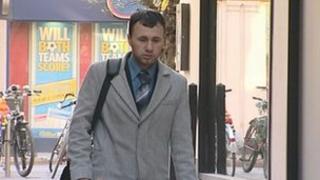 A kitchen porter said he was "racially abused" while working at the Dragon School in Oxford, a tribunal has heard.
Albanian-born Gazmir Dema, 30, arrived in the UK in 2007 speaking very little English but found work as a school kitchen porter.
Mr Dema claims he was racially abused by another member of staff for being Albanian and then subsequently bullied when he tried to complain.
The school said the allegations were "wholly unfounded and without merit".
'Witch hunt'
Stephanie Appadoo, the girlfriend of Mr Dema, told Reading Employment Tribunal Mr Dema had been the victim of racist comments from another porter at the £8,000 a term prep school.
When he tried to report it to the school authorities, she said the racism claims were "swept under the carpet" and the "witch hunt was stepped up several gears".
According to Ms Appadoo, the bullying became worse when Mr Dema asked for his shifts to be changed at the school because of childcare issues.
Ms Appadoo said managers at the Dragon School had held disciplinary meetings with Mr Dema which she was not allowed to attend.
As Mr Dema spoke poor English, he was unable to understand what was being said, the tribunal was told.
Mr Dema is now suing the school for racial discrimination and unfair dismissal.
'No evidence'
However, the tribunal also heard Mr Dema, who lives in Market Street, Charlbury, had not informed his employers he had a second job at a restaurant.
He was also formally warned after using the boys' toilets instead of staff facilities.
Matters came to a head in December 2010 when Mr Dema had an altercation with the head chef which led to his suspension.
He was formally dismissed last year.
Ms Crasnow, acting on behalf of the Dragon School, told the tribunal Mr Dema had changed his story several times.
The alleged racist incident had been investigated by the school and both parties had said they were happy not to pursue the matter further.
She said Mr Dema had been given lots of chances, there was no evidence he had been shown less favourable treatment and his dismissal was fair.
Judge Robin Lewis made no decision but said he would send out a written judgement in about a month's time.