Oxford bank robbery detectives release CCTV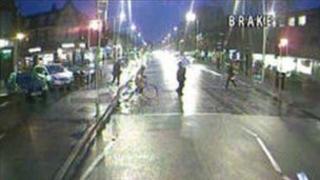 CCTV showing two cars parked outside an Oxford bank on the morning it was robbed have been released by police.
Two men raided Lloyds TSB in Banbury Road, Summertown early on 19 January, forcing the manager to hand over cash.
Detectives said two cars pictured outside the bank shortly after 07:30 GMT are believed to have been involved in the raid.
The black hatchback and silver Vauxhall Zafira left in the direction of the city centre shortly after 08:00 GMT.
'Black masks'
Thames Valley Police said the robbers had a knife during the raid but it was kept in a bag and the manager was not threatened with it.
The raid lasted for about 30 minutes and the alarm was raised shortly after 09:00 GMT, officers said.
Police also released descriptions of the suspects. Both were wearing black masks covering their mouth and nose.
The first was described as white, 30 years old, 5ft 10in, with a grade one shaved head and an unshaven face.
The second was black, 25 years old, 6ft, with tight curly hair and he had thin features. He was also wearing a head covering.
Det Sgt Matt Jarman, of Thames Valley Police CID in Oxford, said: "I am hoping the images will help jog people's memories as I am still appealing for witnesses to come forward, particularly anyone who was in the area of the bank before or during the time the offenders were inside the premises, as well as anyone who saw the offenders or the cars leaving the area.
"We are continuing to examine CCTV footage in the area. No arrests have been made as yet, but the inquiry is progressing."
Police said the bank, as a member of the British Bankers Association, could offer a reward of up to £25,000 for information leading to the arrest of the people responsible for the robbery.