Ice warning in Oxfordshire after overnight snow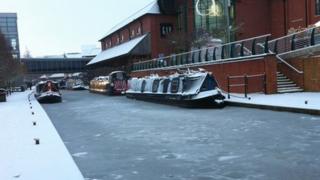 A warning of widespread icy stretches has been issued in Oxfordshire after up to 5cm (2in) of snow fell in parts of the county overnight on Thursday.
The county should escape further snow at the weekend but temperatures will stay around freezing on Saturday.
The snow affected some bus services in isolated areas of west Oxfordshire on Friday but the Oxford Bus Company said its routes were "running well".
Thames Water has nearly doubled the amount of pipe-fixers on stand-by.
Dan Campsell, from Thames Valley's Safer Road Partnership, said drivers should consider if their journeys were necessary.
He added: "It's not an Arctic blizzard out there but sometimes those can be the most treacherous conditions because if it's really bad we all stay at home."
'Block of ice'
Bicester roadsweeper Simon Buckle said the snow meant he would not be working.
He added: "You can't sweep snow - it turns into a huge block of ice in the back of the truck and you can't get it out.
"The side roads are the worst because they've not had a lot of traffic on them."
Early on Friday morning INRIX traffic services described the M40's outside lane between junction 8a at Oxford and Banbury as "impassable".
Oxfordshire County Council said it would be running gritters across the county to combat affected areas.
Those planning to drive can follow the council on Twitter for gritting information.