Boy 'tried to escape' Oxfordshire plane crash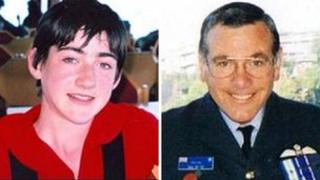 A boy who died in a plane crash may have tried to open the canopy of his aircraft as it plummeted to the ground, an inquest in Oxford has heard.
Air cadet Nicholas Rice, 15, and RAF reservist Flt Lt Mike Blee, 62, died after their light plane struck a glider in Drayton, Oxfordshire, in June 2009.
Investigator Brian McDermid said: "We believe that Wing Commander Blee was incapacitated during the collision.
"I would believe it was probably Nicholas who tried to open the canopy."
The two-seater Tutor aircraft had taken off from RAF Benson in Oxfordshire, on an air experience flight, carrying Mr Rice, from Calcot, near Reading, and pilot Flt Lt Blee, from Abingdon.
It was in collision with a glider flown by Albert Freeborn, 29, from Portchester, Hampshire, who was able to parachute to safety.
'Unsurvivable' impact
The investigators from the UK Air Accidents Investigation Branch believe one of the aircraft's wings clipped the tail of the glider.
However, they told the inquest the damage was not extensive enough to cause the crash.
Mr McDermid said: "The aircraft would still have been flyable, it would still be controllable and would still come out of a spin.
"We have seen far worse damage to aircraft where they have continued to be able to fly.
"If the pilot had been able to fly the aircraft we would expect, due to the damage on the wing and the height he had, he would have recovered and would have been able to pull out of the spin and fly back to the airfield or to Benson."
He described the plane's subsequent impact with the ground as "unsurvivable".
Flt Lt Blee suffered from a rigid ankylosed osteoporotic spine, the inquest heard.
Investigators suggested this meant it was "more susceptible to fracture" and that he may have become incapacitated after the collision.
On Monday, the court heard from Dr Andrei Calin, a consultant rheumatologist, who described the medical condition as serious.
"A minimal jarring event would put the spine at risk of fracturing, just snapping," he said.
Mr Rice is believed to have undone his safety harness before the crash but was unable to jettison the plane's canopy.
The jury inquest at Oxford Coroner's Court is expected to last six days.