Guinea pigs dumped on Oxford footpath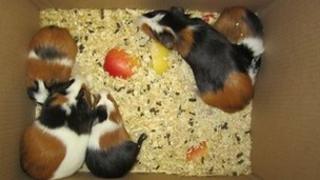 Five guinea pigs have been discovered dumped in a cardboard box in Oxford.
They were found by a dog walker, whose pet discovered the box on a footpath near Heyford Hill in the Littlemore area.
An RSPCA officer collected the animals, which included one male, one pregnant female and three juveniles.
They were found last week and are now being cared for by the RSPCA at a rescue centre while new homes are sought for them.
Dennis Lovell, animal collection officer, said: "These poor little guinea pigs had been left out in very cold conditions and had they not been found they could have soon perished as they had no water or food in the box.
"I just feel so disheartened when we get calls to say that people have just abandoned their animals.
"When people do this, how do they know if the animal is indeed going to be found? Or survive the elements?
"People who have pets should take responsibility for them, it is not acceptable to just go around dumping them when you get fed up, and it is an offence."