Bampton flood prevention begins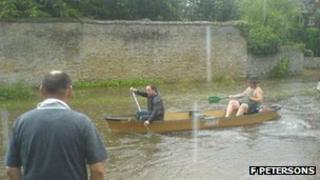 A construction scheme to prevent flooding in an area of west Oxfordshire has started.
West Oxfordshire District Council hopes the work will prevent Bampton and RAF Brize Norton being affected by storm water running off from Carterton.
David Harvey, cabinet member for environment, said it would provide residents with peace of mind following "the terrible floods of 2007".
A new ditch will divert water into a balancing pond owned by Thames Water.
Funding for the project was obtained through an Environment Agency grant.
Principal engineer Laurence King said: "I am sure it will be hugely welcomed by local residents and the MoD."