First Seychelles tortoise donated to UK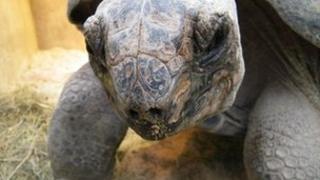 The first giant tortoise to be donated to the UK by the Seychelles is to be officially handed over in Oxfordshire.
The tortoise, called Darwin, will be presented to Cotswold Wildlife Park.
The mayor of Burford, John White, and Georgia Dunlop, the Seychelles tourism ambassador in the UK, will be present at the ceremony on Wednesday.
Ms Dunlop said the conservation project between the park and the Seychelles National Botanical Gardens was a "dream come true".
Jamie Craig, curator at Cotswold Wildlife Park, said: "We are delighted to welcome Darwin to the Cotswolds and to create links between the park and the Seychelles."
Darwin is an Aldabra Giant Tortoise, listed as an endangered species by the Convention on International Trade.
Named after scientist Charles Darwin, the park's new tortoise is 25 years old but can live to 150.
Its species is the second largest tortoise after the Galapagos.