Burst water main that flooded homes will take days to fix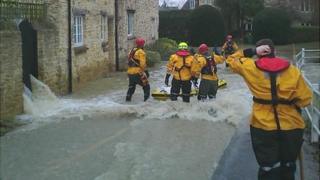 A burst water mains pipe which flooded homes in an Oxfordshire village will take days to fix, Thames Water said.
Eight homes were left under water and the supply was lost to 2,500 more when the 24in (60cm) water main burst in South Hinksey, near Oxford, on Friday.
A temporary access road is allowing vehicles in and out of the village, while the route is closed for repairs.
The job of removing the broken piece of pipe and the installation of a new section will take most of the weekend.
"After that, rebuilding the road over the mended main is set to take about a week", a Thames Water spokesman said.
"We would like to stress again how very sorry we are to everyone affected by yesterday's incident, particularly to the people in the eight properties we flooded. Our priority now is getting their homes and lives back to normal as soon as possible."
Resident rescued
Fire and rescue crews had to use a boat to help people evacuate their homes and rescue belongings.
Residents described the water as being 4ft (1.2m) high in parts and in places had lifted up the road surface.
One resident had to be rescued by a firefighter from an upper floor window because the force of the water was so great she was unable to open her front door.
The water main burst on the slip road off the A34 on to Manor Road.
The Red Cross was also called in to help and Oxfordshire County Council sent 2,000 sandbags to the area.