Drayton air crash jury considers verdict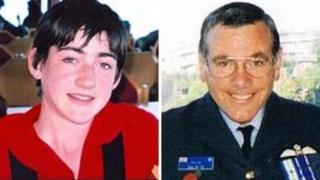 A jury at the inquest into the deaths of an RAF reservist and a young cadet in an air crash in Oxfordshire has retired to consider its verdict.
Nicholas Rice, 15, from Calcot, near Reading, and Flt Lt Mike Blee, 62, of Abingdon, died after their aircraft hit a glider at Drayton, in 2009.
The court heard the glider pilot, from Portchester, Hampshire, survived the crash by parachuting to safety.
The two-seater plane nosedived after the crash at 4,150ft, on 14 June.
Previously, jurors heard the pilot of the aircraft, which had just taken off, had a severe spinal condition that restricted his head and neck movement.
The glider pilot Albert Freeborn also described to the court how he heard the sound of a propeller before looking down and seeing the Tutor aircraft rising up in his direction.
Air accident investigators said no one in the Tutor would have been able to survive after it crashed in a field.