Oxford's primary schools 'underperforming'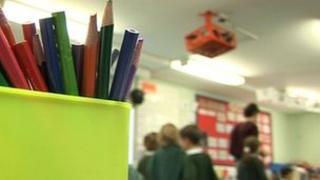 Oxford's primary schools remain bottom of national league tables for key stage 1 in writing and have performed badly in maths and reading.
Education specialist Prof John Howson said education tables showed something was "seriously wrong".
Oxfordshire County Council plans to start a reading scheme in the next three weeks to help tackle the problem.
This involves about 500 volunteers going into schools and reading with the children on a one-to-one basis.
'Very bad'
Last year Oxford had the worst performing schools in England on all three key stage 1 indicators.
Prof Howson said: "It's concerning because we know that from early years foundation stage results that Oxfordshire performs quite well and we think the city performs quite well, but there seems to be this big drop when we get to key stage one."
The cabinet member for education Melinda Tilley said: "I think the results for Oxford city are very bad.
"There is no way around it, it is bad and I think there are a lot of different problems tied up in that, like a poor leadership of the schools, with head teachers and governors and a low aspiration for the children that are in their classes.
"I find no excuse for that because I don't care what background a child comes from, if the aspiration is there for them to do well then they probably will.
She added: "It's just outrageous, there is no reason for it. We shouldn't be there."
'Political failure'
In response, Russell Hobby, general secretary of the National Association of Head Teachers, said: "Given that key stage one is at the start of pupils' education, performance at this stage reflects home and social background more than the schools' input.
"If Oxford's pupils struggle at key stage one, this is therefore a failure of political leadership in providing early intervention, supporting the most vulnerable and ensuring communities value education. Councillor Tilley needs to look closer to home."
As well as the county-wide reading scheme, the council has already started aspiration leadership schemes to support struggling schools.
Councillor Tilly said: "I would hope for some improvement by this time next year but it will be small, it's going to take a while."