Oxford's BT Phone Book has MP detail errors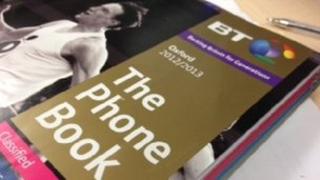 BT has apologised to customers after the Oxford version of its Phone Book was found to contain a number of errors in the details for local MPs.
Boris Johnson is still listed as MP for Henley even though he stood down in May 2008.
A BT spokesman said it was investigating the problems as a "matter of urgency".
He said: "BT strives to ensure that all information in the book is accurate and up-to-date."
The book also lists the former Liberal Democrat MP Dr Evan Harris as representing West Oxford and Abingdon, a seat now held by the Conservative MP Nicola Blackwood.
Tim Boswell is listed as MP for Daventry, a seat now held by Chris Heaton-Harris, John Maples is listed for Stratford-on-Avon, now held by Nadhim Zahawi, Martin Salter is listed for Reading West, a seat now held by Alok Sharma, and Ed Vaizey, for Wantage, is not listed at all.
'BT needs to improve'
Ms Blackwood said: "Constituents have raised this with me on several occasions and I am obviously concerned if any constituents have been unable to contact me as a result of this error.
"I can confirm that my office have now been assured by BT that the details have been corrected in the Phone Book. However, despite several attempts, it has taken my office several months to get the details changed in the directory and this is concerning.
"If this was a local business or someone whose livelihood depended on having their contact details correctly displayed, it would cause them significant problems, and BT needs to improve the speed of their response when problems like this arise."