Extra police for Oxford versus Swindon derby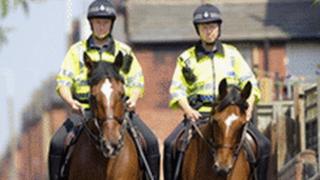 Mounted police and an alcohol-free train will be used this weekend in an attempt to avoid disorder when Oxford United play Swindon Town FC.
The officer in charge of policing the game in Oxford said there would be "significantly more" police on duty than normal.
In the past the local derby has led to violence between rival fans.
When the two sides met in August in Swindon there were 12 arrests for low level disorder and drunkenness.
In that game James Constable scored twice to give Oxford their first away win against their arch rivals in 38 years.
'Dry' train
The majority of the Oxford games have no visible policing and Ch Insp Olly Wright said the extra officers on duty this weekend would be there to ensure the game was enjoyed by everybody.
He added: "Very occasionally when trouble occurs it tends to be people who know each other and want to get together and cause trouble.
"The objective is to identify those who are going to cause trouble and take them out before the match."
A number of other special arrangements have been put in place at the sell-out game.
First Great Western is chartering a "dry" train service for Swindon fans travelling from Chippenham to Oxford via Swindon. It will travel directly to Oxford avoiding the usual change at Didcot.
Oxford United are providing a park and ride service from Unipart for Oxford United fans and Swindon Town FC is putting on coaches directly to the stadium for their fans.