Henley-on-Thames pub chain drops beer duty for day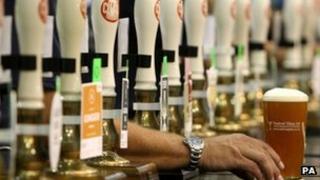 A pub chain has sold tax-free beer for a day in an Oxfordshire town to highlight what it says are "staggering" rates of beer duty.
Brakspear, the company behind 10 pubs in Henley-on-Thames, also aims to present a petition to HM Treasury calling for a "more pub-friendly tax regime" in the run up to the Budget.
Chief executive Tom Davies said: "It's becoming really difficult out there. What we're hoping for is a bit of a break from the Chancellor to try and get people back into the pub."
He estimates the group's total bill to the Treasury for duty and VAT on beer is £4.5m per year across its 144 pubs.
But John Howell, Conservative MP for Henley, said: "If we do not stick to our economic plans we could see our international credit rating downgraded, imposing higher costs of borrowing which would certainly not be in the interests of pubs or other businesses."
'Tax burden'
In January, the Campaign for Real Ale (Camra) claimed that 35 pubs closed in Oxfordshire in 2011.
Beer taxation and competition with supermarkets were said to be the main reasons.
Tuesday's tax-free beer day meant pints were sold with £1.30 off the normal selling price.
Mark Dunlop, tenant at The Angel on the Bridge, said: "This is a great way of highlighting the tax burden that pubs have to bear."
Michael Kennedy, chief officer of Henley-on-Thames Town Council, backed the scheme.
He said: "There have been a number of pub closures in and around Henley and it's no coincidence that the price of a pint has gone up.
"I am the only person in the pub sometimes when I visit mid-week."
Mr Howell said: "I understand the problems pubs face and the important role they have in communities.
"I am very sympathetic to them but they cannot avoid looking at the issues they face in terms of the national economic crisis."
'Ridiculously cheap'
NHS Oxfordshire said that the number of alcohol-related admissions to hospitals in Oxfordshire had risen by a third since 2005.
It said one in five people in the county consistently drank at "hazardous levels" and warned people to "take stock" of their alcohol intake.
Mr Kennedy said he doubted that cheaper pub prices would encourage people to drink more.
He said: "Beer is available to buy from supermarkets at ridiculously cheap prices.
"I think you need to make the prices of beer in pubs and supermarkets more equitable."
According to Camra's Briefing on Beer Tax 2012, beer duty rates have increased by over 50% since 2004 but the revenue to the government from beer duty has increased by 10%.
Brakspear's most recent report specified a £3.5m operating profit for the year ending 31 December 2010.
But the company's profits also stem from the sale of its less successful premises, such as the Old White Horse in Henley-on-Thames.
Mr Davies's ambition is for the issue to be debated in Parliament if enough people sign the petition.
"I think that's very achievable with the amount of pubs we have in the UK and the amount of people who enjoy beer," he said.