Oxfordshire company fined over Crossrail worker's injury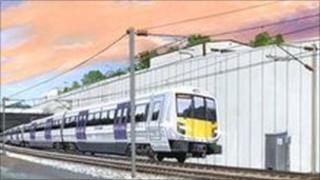 An Oxfordshire-based construction company has been fined £55,000 after an employee was badly burned during the building of the Crossrail project.
A worker for Fugro Engineering Services hit an electric cable in Hanover Street in central London with a hydraulic breaker and suffered 60% burns in 2008.
The company had pleaded guilty to breaching health and safety laws.
The Health and Safety Executive (HSE) said the accident had been "completely foreseeable".
Correct training
Fugro Engineering Services was contracted for a series of ground investigations, as part of the multi-billion pound rail link, which will connect Maidenhead in Berkshire to Shenfield in Essex, via central London.
After the hearing at the Central Criminal Court, HSE inspector Lisa Chappell said: "There is well-established guidance and training to ensure digging is carried out safely.
"Had Fugro Engineering Services provided the correct training, supervision and a safe system of work, proportionate to the level of risk involved, then this serious incident could have been avoided."
The company was also ordered to pay £30,000 in costs.