Duke of Wellington chair sells for £9,000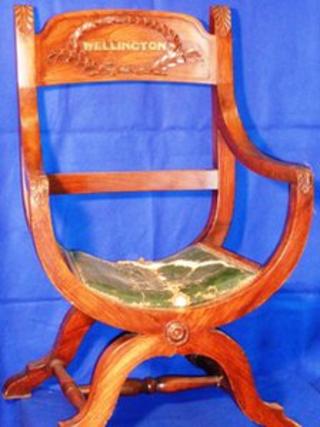 A chair made from a tree the Duke of Wellington stood under during the Battle of Waterloo has sold for £9,000 at auction.
The previously unknown antique was discovered at a routine valuation in Oxfordshire.
Only three other chairs made from the elm exists, belonging to the current Dukes of Wellington, Rutland and one in the Royal collection.
It went under the hammer in Cheltenham earlier.
Defeat of Napoleon
Auctioneer and valuer Stephen Sheppard made the discovery in Chipping Norton.
He said the family was "delighted" when they discovered how valuable the chair might be.
They had originally acquired it at a house sale in the 1950s.
He added: "The family were told to look after it because it was valuable, but valuable in the 1950s and valuable now are very different things."
The Battle of Waterloo in 1815 saw the defeat of Napoleon's French army by combined forces under the command of the British Field Marshal Duke of Wellington.
During the battle Wellington was based under a large elm tree that was roughly at the centre of his army's position.
Distinctive brass lettering
After the battle, the Belgian tree was bought for the British Museum by John Children who commissioned a number of objects to be made from the wood including the three chairs for King George IV and the two Dukes.
Mr Sheppard was able to establish the provenance of the chair from a photo which showed distinctive brass lettering and a plaque referring to the battle.
He believes this chair must have been Children's own.
"Historically it is very important," said Mr Sheppard. "A cabinet made from the same tree was acquired from a relative of Children's by the British Museum after it turned up on the Antiques Roadshow some years ago."
It had a list price of between £5,000 and £8,000.