Kidlington police station to move to fire service HQ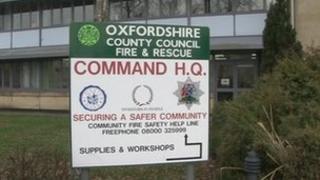 Oxfordshire firefighters and police officers could share premises to help cut costs.
Thames Valley Police wants to test a scheme in Kidlington where police could use the fire service headquarters.
Ch Supt Tim De Meyer said: "We want to take advantage of where our services overlap and at the same time do things more efficiently for the taxpayer."
But Graham Smith from the Police Federation urged caution and warned that safeguards had to be put in place.
He said confidential police documents and data would need to be carefully looked after in a shared premises.
'Advanced stage'
Ch Supt De Meyer said: "There would be arrangements to make sure that anything that needs to be kept safe, was kept safe on site."
He said the plans were in the "advanced stage of negotiations", adding: "One of the exciting things about this is that we could set a precedent for schemes that could operate elsewhere in Oxfordshire and the Thames Valley.
"It's possible to think of where the police could cooperate with councils or other businesses and work together to their mutual benefit, so hopefully we can work something out to the benefit of the community and it will set a good example to follow elsewhere too."
He also said the two services would share a front desk which would still perform the same functions currently provided by Kidlington Police Station.
These include presenting driving documents, the reporting of minor crimes and advice on crime prevention.
The premises would include an interview room where police officers could take witness statements, but would not consist of any prison cells.
However, Ch Supt De Meyer admitted that certain practicalities, such as whether offenders required to report daily to the station as part of their bail conditions could do so at the new site, had yet to be ironed out.
Nathan Travis, assistant chief fire officer at Oxfordshire Fire and Rescue, said staff were positive about the proposals.
"We work within the county council so we're very used to working with other agencies across Oxfordshire," he said.
"If we can do things that would benefit the local community we're up for it."
Kidlington Police Station will be sold if plans go ahead.
The proposal is the latest move by Thames Valley Police to reduce the amount it spends on buildings and overheads.
Deddington's police station was closed as part of the programme. Neighbourhood officers are now based in the local library.