Oxfordshire MoD land could provide new homes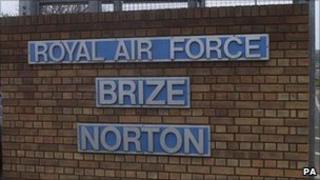 Land owned by the Ministry of Defence (MoD) could be freed up to provide general housing in Oxfordshire.
It follows a decision to reduce the number of planned military family homes in Brize Norton from 780 to 200.
West Oxfordshire District Council said the available land could have "potentially significant implications" for its housing needs.
A decision on a 15-year development plan for West Oxfordshire will now be postponed until May or June.
Councillor Warwick Robinson said the MoD's "proposal to release some of its land has offered more housing capacity within Carterton than originally anticipated".
He added: "The opportunity to explore further development in the heart of the town is certainly of interest to the council.
"The MoD sites are close to the town centre, have good access to shops, public transport and key services and would utilise previously developed land."
A decision on a 15-year development plan for West Oxfordshire had been due to go for approval this month but will now be reviewed to incorporate the MoD's amended proposals.
An MoD spokesperson said it is "currently reviewing its plans" for service accommodation in the Brize Norton area "to ensure they meet the needs of service personnel, and represent good value for money for defence".
He added more information would follow in a report in April.