Burford Blue Cross centre urges more people to re-home horses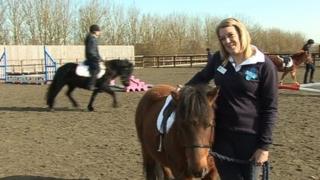 An Oxfordshire charity says it is being asked to take in an unprecedented number of horses and is urging people to consider adopting them.
The Blue Cross in Burford is currently re-homing 10 horses a month, but it is being asked to take on double that.
Gemma Taylor, re-homing manager at the centre, said horses become "innocent victims" of the economic crisis.
She said many were being given up because people could no longer afford to look after them.
The Burford centre has room for 100 horses and could help more horses if some of them could be adopted by people looking for a new animal.
Rising feed prices
Ms Taylor said: "Due to the economic crisis at the moment we've seen a real increase in horses that need to come into the centre, whether it'd be from private homes or new welfare intakes.
"It's very expensive to keep a horse. Obviously you have feed prices that have gone up, particularly this year and last year.
"There's a a lot of hidden costs with horses as well so it's really important when you take on a horse to know the expense and to have a contingency plan put in place for that.
"People are getting made redundant and they've a lot of pressure on them elsewhere and unfortunately the animals come last.
"We're pleading with people if they're looking for a new horse, especially lead-rein types or non-ridden companion horses to come to charities like the Blue Cross and re-home from us.
"It just frees up a space then for us to be able to help other horses in need."
The Blue Cross re-homes horses on a long term loan basis and offers all adopters ongoing support.