Steeple Aston church gets new bell for Diamond Jubilee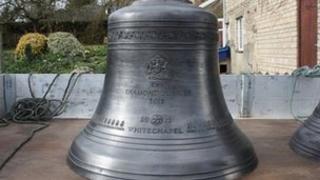 A new tenor bell is to be installed in an Oxfordshire church to commemorate The Queen's Diamond Jubilee.
Villagers in Steeple Aston helped raise £15,000 for the 643kg bell which is being unveiled on Thursday.
Permission was granted by Buckingham Palace to use the Royal Coat of Arms which has been cast on to the bell.
Project leader Graham Clifton said: "It is something that will be there for hundreds of years and for future generations to see and hear".
He added: "Its been a big village project and the whole village has been behind it.
"It's very exciting and I'm very proud that the village has supported it as the Diamond Jubilee is a very rare event."
The new tenor bell at SS Peter & Paul's church replaces the older one which was said to have a "poor tone".