Oxfordshire firefighters help Ghana colleagues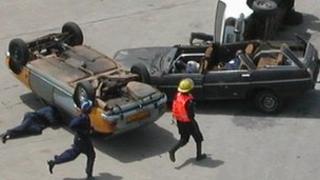 Two firefighters from Oxfordshire have travelled more than 3,000 miles to provide training to crews in Ghana.
The group is providing a two week programme of courses to their west African colleagues at the Training Academy in Ghana's capital, Accra.
The course is designed to help develop Ghana's fire service's abilities to rescue casualties from road crashes.
Chris Barber, from Kidlington, and Rob MacDougall, of Oxford, flew out to Africa on Friday.
Mr Barber is part of the specialist rescue team, based at Kidlington, and is involved with road traffic collisions in Oxfordshire on a daily basis.
He will be assisting Ghanaian instructors to deliver training to their colleagues.
Mr MacDougall, organisational development manager, said: "As a direct result of the project, the service is rescuing people on a daily basis from the ever developing road network.
"The team is very proud of the work it has achieved and the relationships they have built with their Ghanaian colleagues."
Partnership 'strong'
Mr MacDougall will be working with the senior training managers from across Ghana to ensure they can develop and sustain of their rescue capability over the long term.
The project is being funded by both the World Rescue Organisation (WRO) and the Institution of Fire Engineers (IFE).
WRO supports fire services in developing countries to improve their rescue capabilities and IFE is a non-profit making body which provides professional recognition for firefighters and other fire service personnel.
Oxfordshire Fire and Rescue Service has supported the partnership with Ghana since 2003 and Mr MacDougall has been heavily involved with the organisation and fundraising for the project.
Oxfordshire Country Councillor Judith Heathcoat said: "The partnership Oxfordshire Fire and Rescue Service has with Ghana is strong and has proved a success in helping to develop not only their local fire service, but also ours, over the last nine years."