Abingdon school pupils protest over 'name and shame' board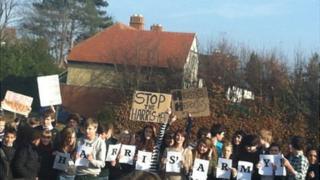 Pupils in Oxfordshire have staged a peaceful protest in support of their head teacher after his idea to encourage better grades "misfired".
Staff at Larkmead School, Abingdon, had put up a board with photos of 30 pupils who were not meeting GCSE targets.
It sparked complaints from some parents and was dubbed a "name and shame" exercise in some reports.
But 15-year-old pupil Liam Woodcock who was on the board said it had "motivated him to get better grades".
'School misjudged'
He was one of five pupils who organised the protest at the visual and performing arts school on Monday afternoon, which attracted more than 220 of the 600 invited pupils.
"I think the school has been misjudged," he said of some of the media coverage. "The teachers are amazing.
"The board was only there to motivate students. I was not embarrassed at all to be on there, it gave me that extra boost to get better grades."
Head teacher Chris Harris, who said he was very pleased by the protest, said his idea had misfired.
"We're not the kind of school that would ever think about naming and shaming," he said.
"It's almost the other extreme. We felt so close [to] our students that it was possible to be that intimate, in a sense, and put the pictures of the students up who we were all trying to support to get over those key thresholds."
Three parents had complained about the embarrassment to their children, but Mr Harris said they had done so after the board had been taken down.
He said the board had noted student achievements as well as areas for improvement.
Melinda Tilly, Oxfordshire County Council's cabinet member for schools, defended the idea.
She said: "I think we're trying to protect children far too much because life isn't like that, there are knocks all the way along."