Oxfordshire woman Cath James's Clipper yacht rescue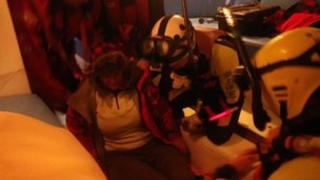 An Oxfordshire woman has relived the moment she injured her spine and was unable to move while taking part in a yacht race off the coast of Japan.
Cath James had completed seven months of the Clipper Round the World Yacht Race before sailing into rough seas.
The 41-year-old from Witney had to be winched to safety aboard a helicopter by Japanese coastguards at the weekend.
However, she hopes to re-join the race once she has recovered from concussion and a fractured vertebrae.
'Couldn't move'
Speaking from her hotel in Tokyo, Ms James said: "We'd come down to the west coast of Japan, and it started to get quite rough.
"I got thrown from one side of the boat to the other before colliding with a metal bulk-head.
"I couldn't actually move, I was in way too much pain," she said.
Others taking part in the race have described the conditions as "mountainous seas".
Two doctors on board the ship strapped Ms James in and put her under observation for 24 hours.
As she showed no signs of improvement, the skipper of the boat - which was 100 miles off Japan - decided Ms James should be removed from the ship by Japanese coastguards.
The helicopter arrived 48 hours following the incident, and Ms James was winched to safety.
Ms James's teammates in the race continued in their boat, De Lage Landen, having lost valuable hours in the rescue effort.
But she is still keen to sail again, adding: "Common sense hasn't dominated in any sense shape or form. I just want to get back on board and resume racing."
The Clipper Round the World Yacht Race is the world's longest yacht race, with participants taking almost a year to circumnavigate the globe.
The fleet of 10 identical 68ft (20m) ocean racing yachts are supplied by the race organisers. Each yacht is sponsored by a city, region or country.
Participants, many of whom are sailing novices, come from all walks of life and undergo a four-stage training programme to prepare them for the gruelling journey.
Director of the Clipper Round the World Race Jonathan Bailey said it was the fourth time an incident like this had occurred since the race began.