John Brown's mission to tell wildlife stories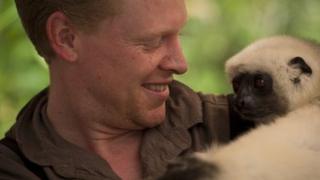 On Thursday BBC Two's Natural World: Madagascar, Lemurs and Spies featured the plight of the critically endangered silky sifakas lemurs.
They were filmed in the remote and dangerous rainforests of Madagascar by Oxfordshire film maker John Brown, veteran of more than 100 wildlife films.
But what makes a man leave his wife and two young boys in Oxfordshire to risk his life telling a story others have died trying to tell?
"It's dangerous," admitted Mr Brown. "People have been killed for making this kind of film.
"There are inherent risks of doing what we do when we are but we can get on a plane and leave.
"But a lot of these people, that's where they live and they are risking their lives, so it's the passion that I picked up from these guys in the field when I first met them that convinced me that I had to make this film.
"The one thing you can do as a film maker is you can give a voice to people who don't have a voice."
'Really valuable'
Silky sifakas are critically endangered, with as few as 300 individuals remaining. Their complex diet makes them especially vulnerable to habitat loss caused by illegal logging, which is investigated in the Natural World film.
Mr Brown said: "It really interested me because I'd spent about a year and a half working there (Madagascar) and I'd got to know the people and the forests and I could see the damage the illegal logging was having."
The Oxford biology graduate has worked in nearly 30 countries and seen many depressing examples of the natural environment being destroyed by human activity but he said this was not one of those stories.
"This is a real extraordinary example of how people's tenacity and dedication can change the world," he said.
"It's kind of like a Bond film, you have engaging human characters spying and doing undercover stuff to protect something that is really valuable and really worth protecting."
'It's a privilege'
But the fact a lot of the ebony and rosewood trees taken illegally from the forests are sold to make expensive guitars in North America presents Mr Brown with something of an ethical dilemma.
He is a passionate musician, has played the guitar for over 20 years and owns six guitars, a viola and a mandolin.
But he is clear which is more important to him, saying: "These are not commodities that we need, they are commodities that we desire for aesthetic reasons so you absolutely can't justify cutting down forests and making rare primates extinct just to have a lovely bedside table or a lovely sounding guitar."
So, while the wrench of leaving his young family will remain the hardest thing Mr Brown has to do, he says he is determined to continue to brave the leeches, scorpions and poisonous centipedes of the world's forest to tell important wildlife stories.
"It's a privilege to see this stuff and film it," he said.