Oxford chef scoops award with margarine angel sculpture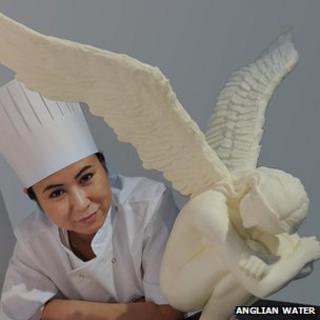 A chef has created an intricate 2ft-high sculpture of an angel out of pastry margarine.
Naoko Sugekawa spent 180 hours carving the piece, which includes 500 individual feathers.
The pastry chef, who works at Raymond Blanc's Le Manoir aux Quat'Saisons in Oxfordshire, scooped a special fat-carving prize at a London trade show.
The award-winning angel has been put in a cabinet at the restaurant in Great Milton for customers to see.
Organisers of the contest wanted to raise awareness that used cooking oil and fat should not be put down the toilet or sink but recycled or binned.